While many aspects of real estate transactions were managed online pre-pandemic, there was a notable shift to more digital transactions for buyers and sellers due to COVID-19 restrictions. Almost every phase of home buying and selling moved to an online experience, from previewing homes for sale, touring properties, applying for mortgages, securing appraisals and inspections, and signing documents.
Digital platforms and apps developed to simplify real estate transactions and execute them online have always been a convenience for out-of-state or international buyers and sellers. Pandemic restrictions cemented many of these virtual processes for all buyers and sellers.
Being able to manage much of the process of buying or selling real estate online is a huge convenience, and because it has been necessary to be COVID-safe, buyers and sellers have been forced to get comfortable with digital documents and other virtual interactions, observes Kristine Roody, transaction coordinator with KBT Realty Group – Keller Williams INNOVATE.
When Online, Security Comes First
Web-safety for online real estate transactions has been a special concern during the pandemic, because even non-techy clients have needed to work digitally. For those aspects of a real estate transaction that are managed online, it is important that both tech-savvy clients and those who aren't as comfortable working virtually be equally diligent about online safety, emphasizes Kristine.
"We offer digital tools such as Transfersafe to allow clients to upload their documents through a secured portal. There is no need to email sensitive documents. In addition, I always introduce my team so clients will know who to expect communication from," says Tara Jones Fitzgerald, Mortgage Loan Originator with HomeStar. "When in doubt, never hesitate to ask your loan officer directly. Check email addresses to make sure they match previous responses. Also, before wiring any funds, call the intended recipient at a number you know is valid to confirm the instructions."
12 Tips for Real Estate Transaction Safety
Tips for being safe online, other than applying the same common sense principles that you use in other financial transactions from your phone or computer, include:
Use a secure, private connection. Your password-protected connection at home or your office is secure; a public WiFi connection at an airport, the library, or in a coffee shop is not secure.
Make sure that the website you are using is secure. A "closed" lock in the right corner of the URL bar indicated that the site is secure, as does "https." If the lock is open, or the site is only "http," don't enter personal information to any form.
Secure sites will include a Privacy Statement that outlines how your personal data is handled. Review this document.
When submitting payment or transferring funds, use a credit card or bank account, not a debit card.
While you are in the process of your real estate transaction, check your bank account regularly.
Do not send personal information (social security or account numbers) or sensitive documents via email; use a secure platform, like DotLoop, to transmit this information.
Use the secure document upload or transaction management platform that is endorsed by your mortgage officer and real estate agent.
Don't print out documents that you don't need, and shred those that you are not using.
Always verify wire or fund transfer instructions with a phone call to the person who is managing your transaction. Never change wiring instructions or supply private information about yourself, clients, or a transaction based on an email or text message.
Alert your personal banker about large transactions to ensure another level of attention to your accounts.
Verify changes in email addresses, account information, or contact information with your lender or attorney.
Always ask your real estate agent, lender, and attorney what protocols they have in place to secure your private information and manage your online transaction.
Although there are secure, user-friendly tech solutions to facilitate virtual transactions, like DotLoop, Kristine notes that even during the most stringent lock-down, it was necessary for most closings to happen in person, and that health safety precautions – sanitizing, masking, distancing – kept lenders, closing attorneys, and real estate offices operating. A completely virtual closing can be cost-prohibitive, she adds, with the buyers or sellers needing to hire a remote notary, and make arrangements to give a trusted person power of attorney.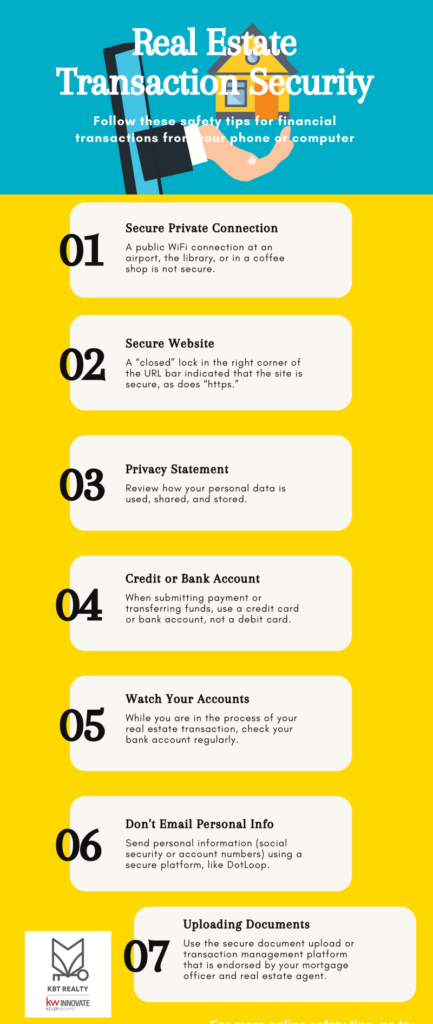 Keeping It Personal With a Combination of Virtual and In-Person Service
Many people are not ready to give up the in-person experience of buying or selling a home, Kristine says. Even if they are comfortable connecting with their Realtor for a FaceTime property tour, emailing offers and contracts, and signing documents virtually, they usually want to be in the attorney's office for closing.
Kirk Pugh, co-owner of KBT Realty Group, agrees. He doesn't anticipate 100-percent virtual transactions becoming the industry standard, or doing away with what is a relationship-based industry. People value the personal interaction that develops during the process of buying or selling a home.
"Generally, the over-sixty group, as well as first-time home buyers, are much more comfortable with in-person real estate transactions," Kirk says. "Being present is part of the experience, and adds to the level of confidence in decision-making."