Healthy Strategies for Your Real Estate Sale
Even in the time of COVID-19 pandemic state-ordered stay-at-home restrictions, businesses closed to the public, and widespread telecommuting, there are still people for whom a move is essential. Whether it is for a work transfer, family-necessitated residence change, or long-planned lifestyle change like retirement or marriage, your health safety should be your top priority.
To sell your home while the nation is battling the spread of COVID-19, you should depend upon a Broker Realtor to educate and guide you through your options.
At the start of your home selling journey, you should interview Realtors and sign a listing contract with one who understands that it is not "business as usual." The best Realtor for these special circumstances will be one who is comfortable with a virtual consultation. Your initial conversation, and ensuring conversations, should be virtual. Chat on the phone or online via FaceTime, Skype, Zoom, or any other format that makes you feel comfortable.
Often, a virtual "face-to-face" feels more personal and effective in conveying your goals. In this changing market, your Realtor should make every effort to connect with you to help you sell your home in the changing market.
Agents should outline how they will leverage a digital marketing plan. They may use a combination of traditional online listings, property videos, and narrated virtual tours to pre-screen buyers. They might host virtual open houses to show your home online while prospective buyers attend by watching from their smartphone or laptop in the comfort of their own homes.
In order to create the digital assets that will help sell your home, your agent should carefully set appointments with the professionals needed to put the marketing in place: photographer, videographer, measurement contractors, and inspectors. Strict health safety protocols including the use of face masks, gloves, and sanitizer is a priority.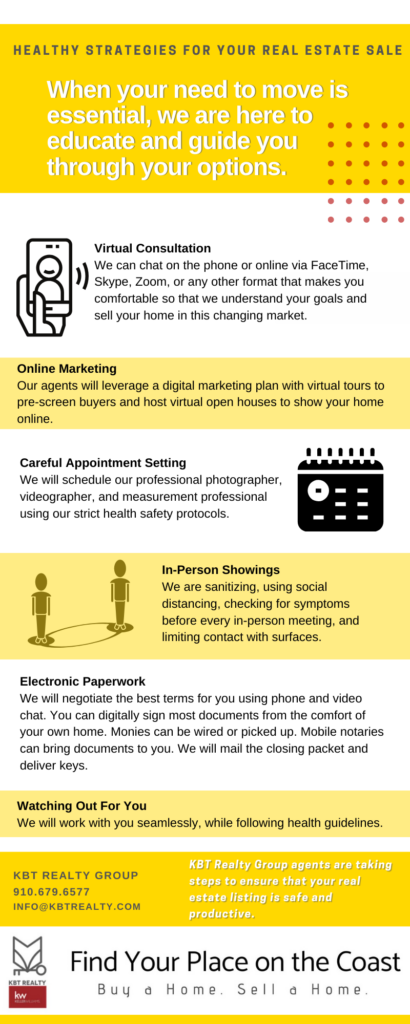 When your Realtor has verified that your property has a serious prospective buyer, in person showings can be arranged by implementing social distancing, requiring sanitizing and personal protective wear, strictly limiting contact with your home's surfaces – from cupboards and drawers to plumbing fixtures – and carefully checking for any flu-related symptoms before every in-person meeting.
You've Got An Offer: Leverage Electronic Paperwork
Your Realtor can very effectively negotiate the best terms for your home sale using phone and video chat. Then, when the right offer comes in, you can digitally sign most documents from the comfort of your own home. Monies can be wired or picked up. Mobile notaries can bring documents to you and deliver using social distancing protocols.
Your agent can mail you the closing packet, and hand deliver your carefully sanitized keys to the buyers agent.
KBT Realty Group agents are taking extraordinary steps to ensure that your real estate listing is safe and productive. We will work with you seamlessly while following health guidelines and leveraging tools – like virtual appraisals and e-closings – put in place to maintain everyone's safety in the time of COVID-19.