Navigating the "New Normal"
If you are thinking about selling your home, you may be looking for encouragement, trying to find reasons and ways to keep your spirits high, tips for the cutting expenses associated with listing your home for sale, and actionable advice for navigating the "new normal" of the era of COVID-19.
KBT agents are prepared with the expertise and strong industry connections that will provide you with timely and reassuring real estate market trends and advice.
Real Estate Rebounds
If you have been in the real estate profession for a number of years – even for decades – you will find a great deal of comfort in the housing market history.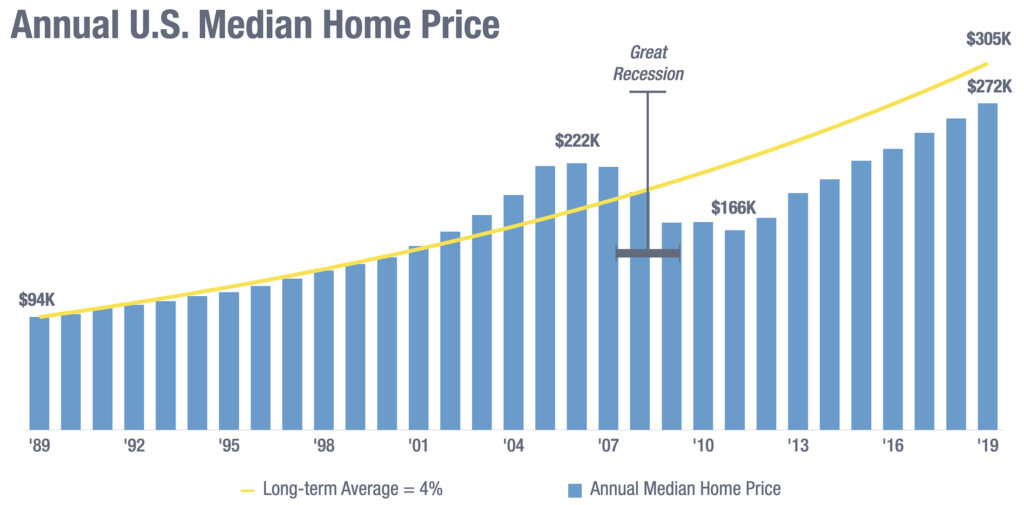 The current crisis created by the novel coronavirus is proving to be unprecedented. The housing market, however, remains surprisingly predictable. Real estate market trend research reveals that over the course of the past 40 years, the housing industry and home prices in the United States have been resistant to recessions caused by a range of external forces, from natural disasters like hurricanes and earthquakes, to world wars. Home sellers experiencing anxiety about the real estate market, can keep these points in mind:
1. Single-Family Home Prices Are Always Rising
According to data from the Federal Housing Finance Agency (FHFA) House Price Index (HPI), the prices of single-family homes generally rise an average of 7.4% heading into a recession and then continue to rise by about 2.7% during the ensuing economic downturn.
The Great Recession provides the single exception, which can be attributed to a weak housing sector and the phenomenon of over-leveraging in the financial sector. Both the housing sector and the financial sector, however, are entering this current economic recession from a position of strength, an exception to the HPI rule is very unlikely.
2. Lower Home Supply Means Sturdier Real Estate Prices
As the country emerged from the Great Recession, the loss of construction capacity resulted in 2- to 3-million fewer single-family homes being added to the market over the course of the last 10 years. Low inventory of single family homes has spurred the dynamic price appreciation in the real estate market through the beginning of 2020. Many experts believe that the low inventory will help keep single family home prices stable until the market rebounds.
Also, if the housing market recovers at a rapid pace, the low inventory of single family homes may help the country avoid widespread real estate price decreases.
3. Experts Connected Like Never Before
The real estate industry, along with all tangential professions like home mortgage lenders, appraisal professionals, and others, are connected on a micro-level, and capable of managing business in a virtual arena. They are able to fulfill the fiduciary duty of keeping home sellers updated on the state of real estate, legislative and procedure guidelines that impact home sales, and financial market shifts.
Information can be shared between home sellers, their Realtor, and other professionals in a matter of minutes. Health-safety concerns have been integrated into every step of listing a home for sale, from virtual showings, expanded digital marketing capabilities, and contact-less closings.
Take a Deep Breath and Forge Ahead with Your Plans to Sell
Sellers should remember these three points when starting the process of listing their home for sale:
Single-family home prices typically continue to rise even during a recession.
The housing market's low level of sales inventory means property values will remain sturdy throughout market fluctuations.
Your Realtor is the best source of up-to-the-minute information on procedures, guidelines, and real estate industry trends.

More pandemic-related information for home sellers and buyers: 7 Tips to COVID-19 Proof Your Closing from Guaranteed Rate.